With the aim of realizing a sustainable world, the PARIS MIKI Group is working on a range of activities that only we can provide in line with the directives of the SDGs.
The PARIS MIKI Group endorses the SDGs, comprised of 17 global goals and 169 targets to be achieved by 2030 and adopted by the United Nations Summit in September 2015 in order to realize a sustainable world, and is committed to contributing to achieving these targets through our business and social contribution activities.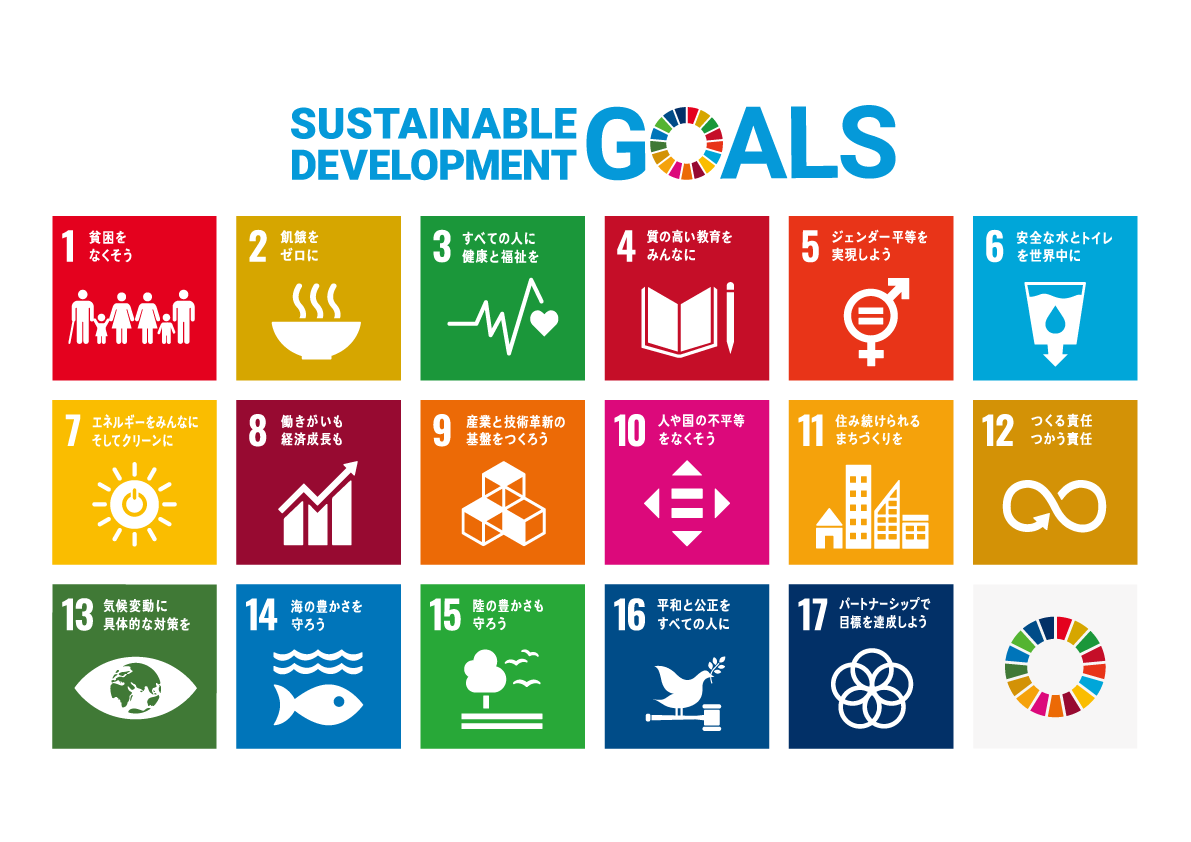 Initiatives of the PARIS MIKI Group
Overseas support and medical

The medical segment of the PARIS MIKI Group, including the establishment of the optometry faculty at Shanghai University and the Japan International Eye Hospital in Vietnam that started with the encounter with the red-bearded doctor, Tadashi Hattori, etc. has continued to grow while also contributing to the local communities.

Pass on the value of Japanese products

The PARIS MIKI Group sees protecting the technologies and quality of Japanese products and carrying on the traditions of craftsmen and industry as just one of our roles as a retailer, and will continue to create appeal for the value of Japanese made products to a society that has grown accustomed to mass consumption.

Working towards a recycling-based society

Because good-quality, Japanese eyewear is both durable and flexible, PARIS MIKI repairs glasses, including other brands, with the aim of realizing a recycling-based society that fosters a sense of value for the things we own rather than throwing them away.

Environmental initiatives of our stores

PARIS MIKI is also working on Group-wide efforts to reduce the environmental impact of our stores. These include actively seeking to use existing properties, the use of timber structure stores and the gradual conversion to LED lighting in all of our stores.

'SENDING LOVE TO Sri Lanka'

Glasses no longer needed by our customers are repaired, adjusted and cleaned before they are donated to people who need them in Sri Lanka. Since this program began in 1991, 55,000 pairs of glasses have been donated.

The importance of sight

Visual life care testing that matches the lifestyle environment and how each person uses their glasses helps to provide information on how to select the most comfortable pair of glasses for each life situation through the use of specialized testing tools and a variety of test criteria. We are currently working on providing effective, functional lenses and building the necessary framework to provide full health support with the aim of treating customers before symptoms appear.

The joy of hearing

The RAKU MIMI Service (system providing hearing aids at a fixed price) helps to reduce the economic and psychological burden of using expensive hearing aids and by providing a unique, long-term guarantee, helps to eliminate the anxiety experienced by the elderly and family members. We are also aiming to provide "audio life care" a service that will accommodate generations who want to enjoy music from a variety of music sources.

Helping the socially vulnerable

PARIS MIKI was the first in Japan to introduce "OrCam MyEye 2.0", an AI-driven visual aid developed by OrCam, a company based in Israel. The next generation motorized wheelchair, "WHILL" came into being by supporting a venture firm and is currently sold and is available for test drives at "Paris Miki", "Megane no Miki" and the"KIMPO-DO Kyobashi Store". At PARIS MIKI, we believe it should be the mission of all corporations in the health and welfare sector to shine a little bit of light into the lives of not only the visually impaired, but also people who do not have full use of their legs, as well as their surrounding family.